Greetings, and Welcome to the second 'New World' edition of our newsletter. I hope you are all doing well in these difficult times.
Before getting into what we've been up to, and the important business of trying to entice you with a special offer or two, I'd like to say that never before has the support of our fantastic customers been more important to us. In turn, we've been able to support our suppliers and so collectively our world has kept spinning. We have a lot to be very grateful for.
Metal Image is quickly approaching its 50th year so we've given our logo the once-over for a fresh look for this most auspicious occasion. It's been an excellent opportunity to tidy up our brand, reconsider our Unique Sales Proposition and how we put both to work. We've found there's a lot of value in this process, and are particularly excited by it, so we'd like to share with a special graphics offer for FREE. Details below.
A great deal of thought and teamwork has gone into our new USP. I'd always thought a USP was just a slogan, a shiny badge on a flash suit. Recently I've learned that the badge has to shine both sides. It must answer just one question on the outside. What makes us different? The real shine, and a sense of pride needs to be inside too, driving all we do and how we do it.
'Durable Images delivered with Passion and Precision'
That's the talk. If you'd like to learn more about the walk click here.
Put your best foot forward with an October Fresh Graphic. Give us a call or email us during October to arrange a FREE refresh of your existing designs on file. We can make changes to bring the design and content up to date, insert a current logo version maybe – just a general review. We can always find a way to get some value, and a sharper fresher looking product to underpin all your hard work.
Andrew Robbie
Managing Director
New Product – Stainless Steel labels and tags
The newest addition to our Fab Four durability club is Fibre annealed or etched stainless steel 316 2B. Practically indestructible, withstands abrasion, washdown chemicals, intense heat and UV. Looks great and goes the distance in the worst of environments.
Resilient Asset tracking labels and tags, compliance, rating plates and serial labels.
Meets specifications for military, medical, food and chemical processing.
316 2B Stainless Steel for superior corrosion resistance and absolute UV resistance.
Essential in wash-down areas with 10% or greater caustic concentration.
Withstands temperatures in excess of 400°C for extended periods.
High contrast bar and QR codes for reliable scanning time after time, year after year.
Super high resolution laser images both front and backside.
Laser cut in standard or custom sizes and shapes to create single and double sided tags.
Available in a range of gauges, from thin to self-supporting.
Add your variable info by laser, rotary engraving, traditional stamping or dot peen marking.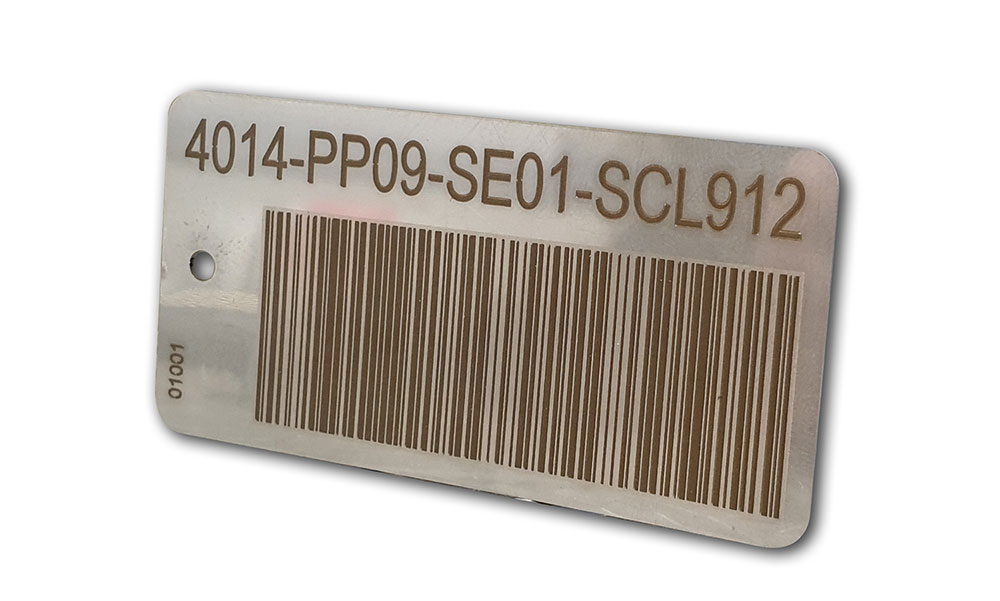 New Service – Direct Laser Marking
Our new Fibre Laser Marking system is in place, and we are pleased to expand our marking abilities. We can now add barcodes, variable text and numbers to pre-imaged plates and tags as well as almost any metal component you provide us. The permanent way to mark unusual shaped assets with unique identifiers.
Why Direct Laser Mark?
Perfect for clear and precise tamper proof marking of pre-printed anodised aluminium blanks.
Delivered pronto! Email us your spreadsheet as you need them, we can often fry them then fly them same day.
Stress free – we let you know when the blanks get low. Never run out of plates again. Imagine that.
Economical – order pre-printed plates in sheet lots in advance for great pricing.
Wide range of blank Anodised Aluminium & Stainless Steel tags in standard shapes colours and sizes.
Not just flat plates – permanent marking on a huge range of material types, shapes and sizes.
Eliminates adhesives, the most common point to fail in long term identification.
A hard-wearing, professional looking finish to any project.
Handy Andy's Useful Tip #4
School holidays are nearly on us!! Go check your stocks of labels and plates today – every time there's always a handful that get caught short. Don't be that guy.
Warm Fuzzies
For this edition, our warm fuzzies go out to these few customers we've been able to help out by going the extra mile (it's less crowded on that stretch of the road), maybe a great idea to solve a delivery issue. Situations where we've under-promised then over-delivered. Thanks to these guys we learned something, and we hope in the process to have created some fans. Thanks!
Peter B. We got to the solution, persistence and a little patience.
Suzanne C. We made it in time! The Prime Minister will be pleased.
James H. Bet you did not expect a cup of coffee to take longer than making a label.
Jenny L. Thanks, where great service is proven to be to our mutual benefit.