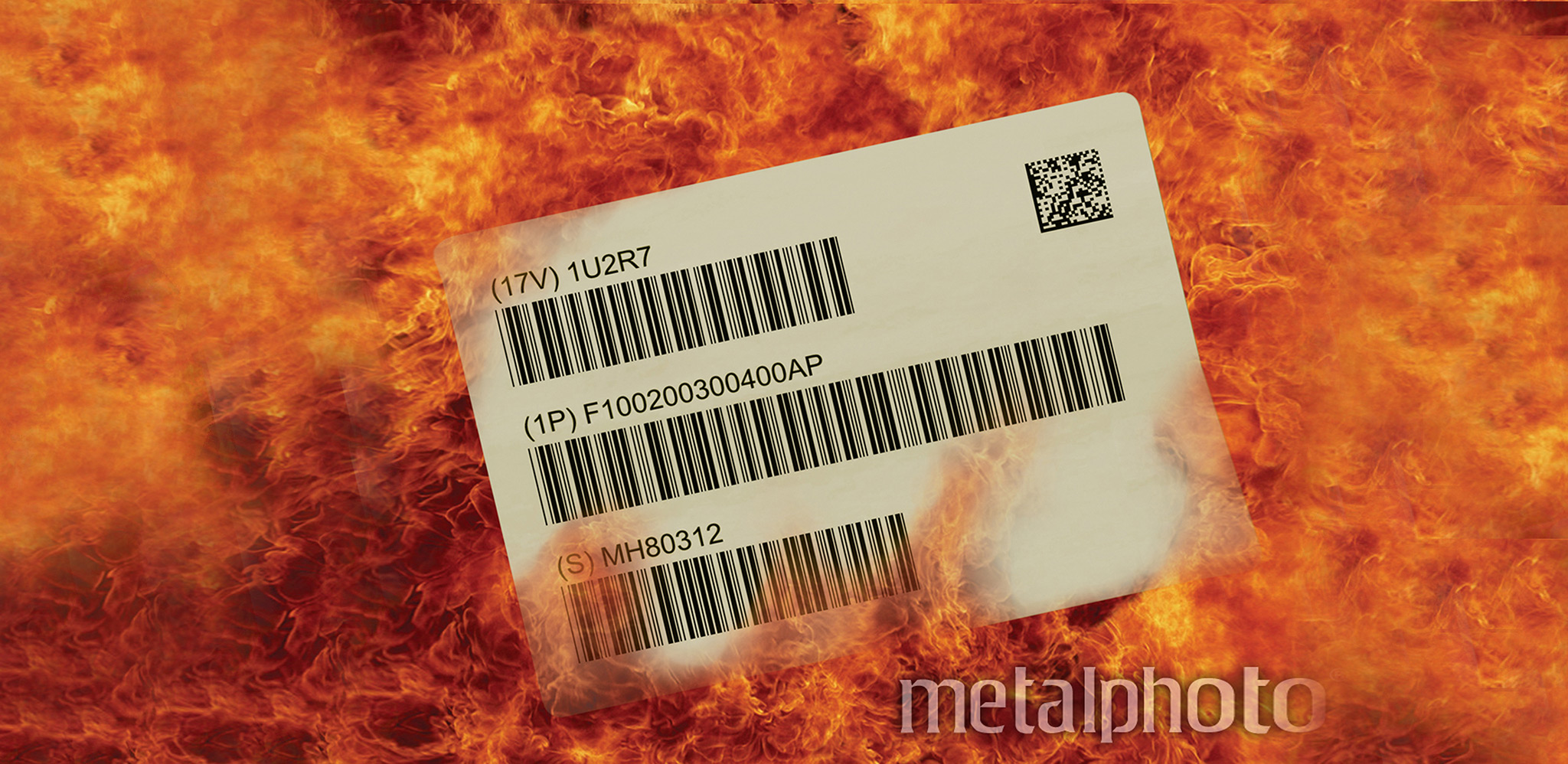 What is MetalPhoto?
MetalPhoto is a sub-surface print into the open pores of anodised aluminium to create an image that is durable and tough.
MetalPhoto is achieved by taking a sheet of photo sensitive open pore anodised aluminium and processing it through laser light to image design, words, a pattern or even a photograph into the aluminium layer.
In other words, it's pretty much like developing a photo, but on aluminium rather than photographic paper.

Your design is imprinted and sealed onto the aluminium's surface but behind the protective anodised surface layer resulting in a high-quality and extremely durable aluminium image.
Four Benefits of using MetalPhoto
1. Durability
The durability of aluminium is well documented. MetalPhoto places a permanent image into the aluminium so that it remains legible and lasts for almost as long as the aluminium does.
2. Legibility
MetalPhoto is a highly accurate image reproduction method that produces an end result that is as legible as the source material. That means, scannable impressions remain scannable, and even the finest text remains as legible as it was on the page it was taken from. The image will remain readable even after prolonged exposure to the weather, sunlight, heat and chemical attack.
3. High-Definition Resolution
MetalPhoto produces an image that is not only highly legible, it also has stunning resolution, meaning:
Labels always look crisp and readable.
The high resolution means small images are able to be reproduced with clarity, e.g., labels for small items.
Features such as micro-text or watermarks mean you are able to incorporate extra security features onto your labels.
4. Guaranteed Performance
MetalPhoto was developed in 1958 and has proven itself to be durable and effective over long periods in the harshest of environments. Because of this, MetalPhoto tags and labels are used by many leading global companies including aircraft manufacturers, Caterpillar, and NASA.
Where to use MetalPhoto?
The durability of MetalPhoto means that it should be used in areas where any of the following conditions exist:
Heat – no legibility loss or degradation when subjected to 316OC / 427OC with UV boost.
Abrasion – no pronounced image loss, degradation or reduced readability after 7,000 cycles on an abrading wheel.
Weather/UV.
Chemical attack – no softening, staining or noticeable fade after 24 hours exposure to a range of solvents including gasoline, turpentine, kerosene, and acetone.
Risk of corrosion – including salt spray corrosion and acid corrosion (no deterioration or image degradation after 24 hours in 3% nitric acid).
In other words, when you have an application that requires a material that will remain legible in the toughest of conditions, MetalPhoto is the answer.
What is MetalPhoto used for?
MetalPhoto can be used to any number of applications where a high-quality, durable image is required. This includes:
MetalPhoto facts
Here are some facts you need to know about MetalPhoto:
For chemical and abrasion resistance the image is embedded below the 8 micron anodic layer.
High UV resistance – even in high sunlight areas, MetalPhoto images will retain 20 year plus reliability.
The aluminium images will withstand temperatures of -55°C up to 427°C (Optional gold chloride intensification treatment boosts UV to extreme and heat resistance to 427°C).
The aluminium can be laser or die-cut into any shape, e.g., your company logo.
A range of gauges, from foil thin to robust self-supporting aluminium, is available.
The aluminium can be laminated back-to-back to create two sided tags.
Background colours can be added by bath dyeing.