316 Marine Grade Stainless Steel – Fibre Laser Marked
A relatively new addition to Metal Image 'in house'. For years we have outsourced stainless steel labels for our customers. But with the market and technology evolving in 2020 we took it on ourselves and dipped a toe in with our very own desktop Fibre Laser. This gave us the ability to look after our existing customer base, create growth with new customers, and add to our incredible family of durable metal products which fall into our USP.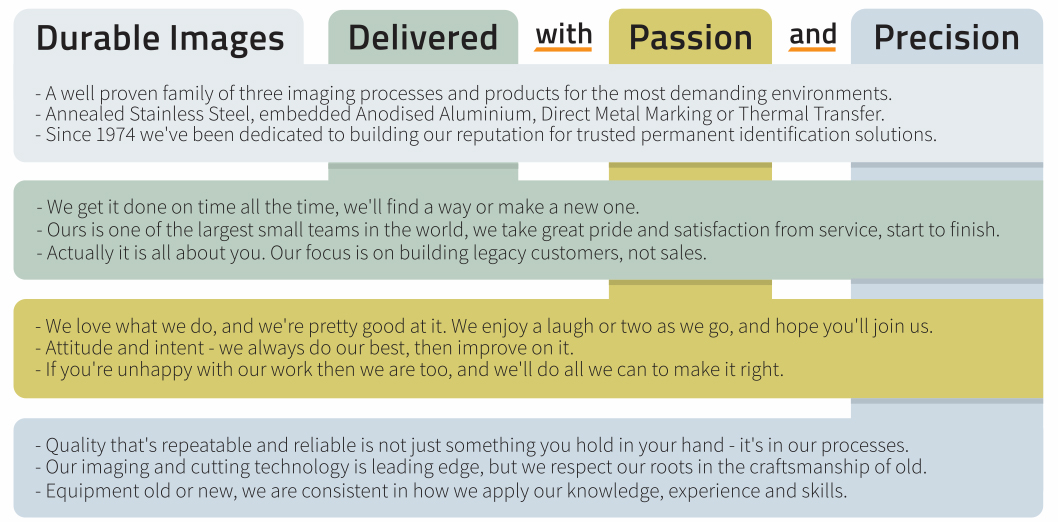 Stainless steel is the heaviest hitter at Metal Image, its functionality in the harshest of environments and heaviest of gauges makes it perfect for when the going gets tough. Learn more about stainless steel label applications.
All that said, nothing can take away from the 'O.G' in the Metal Image family.
Sub-surface printed Anodised Aluminium.
If you're looking for a tough label that still withstands a hammering in its lifetime and looks beautiful while doing it then this is the product for you.

We have been producing this product this since the days of printed photographic film. Exposed onto light-sensitive sheets of metal and processed through a series of steps to 'seal' the image in this product is the work horse which never fails to deliver. And while our technology has come a long way now through the use of laser imaging and specialised flatbed printers the end result is still the same. High resolution, highly durable, always readable images in brilliant aluminium.
Available in our most durable MetalPhoto (black/grey image) or full-colour AliChroma anodised aluminum has been used for asset tracking, compliance & rating, name plates and serial labels for near on 40 years. Learn more about anodised aluminium.
There is nothing we cant print on this product – just try us.